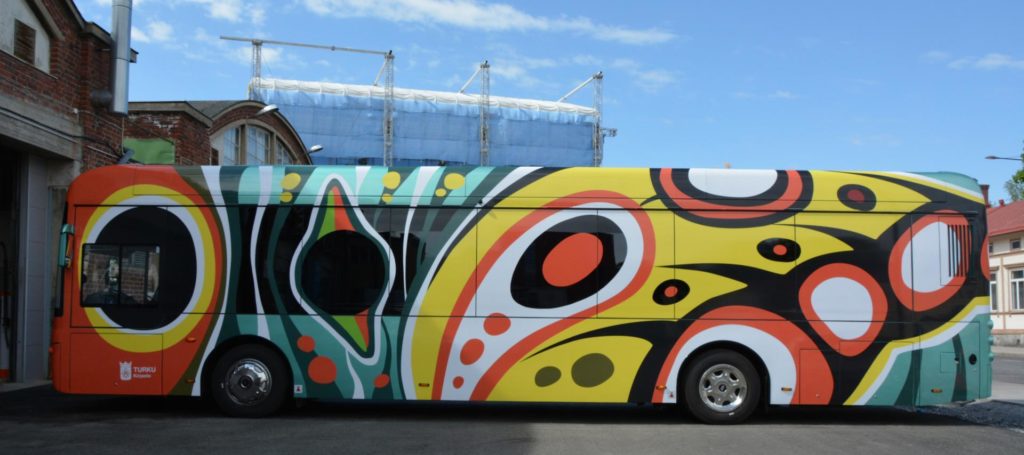 Switching the power source of vehicles to a lower-emission option can reduce emissions and improve air quality in the city. The Turku City Library introduced an electric mobile library bus that can significantly reduce emissions.
Read in another language:
Purpose
The viability of our living environment is extremely important to all of us. In addition to this, the library is a kind of recycling center. Thus, a more environmentally friendly option for implementing logistics is suited for the library' values like a glove.
Results
The electric mobile library bus was introduced in June 2020. The library has calculated that a new library bus produces 6552 kg less CO2 per year than a traditional engine-powered library bus.
Implementation
Of the library's two library buses, it was decided to purchase a fully electric library bus, which was put into service in June 2020. The bus itself does not emit any carbon dioxide at all, even though the production of electricity causes emissions. The library has calculated that a year a new library bus (called Lieke) produces 6552 kg less CO2 than an traditional library bus.
The routes driven by the new library bus are as long as its predecessor, but the bus, which is powered by electricity, does not emit carbon dioxide when driving.
When another library bus in the library has to be taken out of service, the goal is to replace it with another electric mobile library bus.
Review
Investing in to a low emission vehicle to lower the emissions of providing library services to remote areas can be an effective way to lower CO2 emissions of operating library services to citizens. This Planet act is an example how public procurement and public services can play a role to introduce new concrete ways that are visible to citizens and show what a low carbon city can include. This act is scalable to all organizations that use vehicles as part of their operations.
A corporate responsibility veteran, with over two decades in the industry. He has held several notable positions, among them, he has served as the global sustainability chief at Nokia. There he has managed global corporate responsibility activities, environmental and social responsibility, social investment portfolios as well as disaster relief and charity donations.