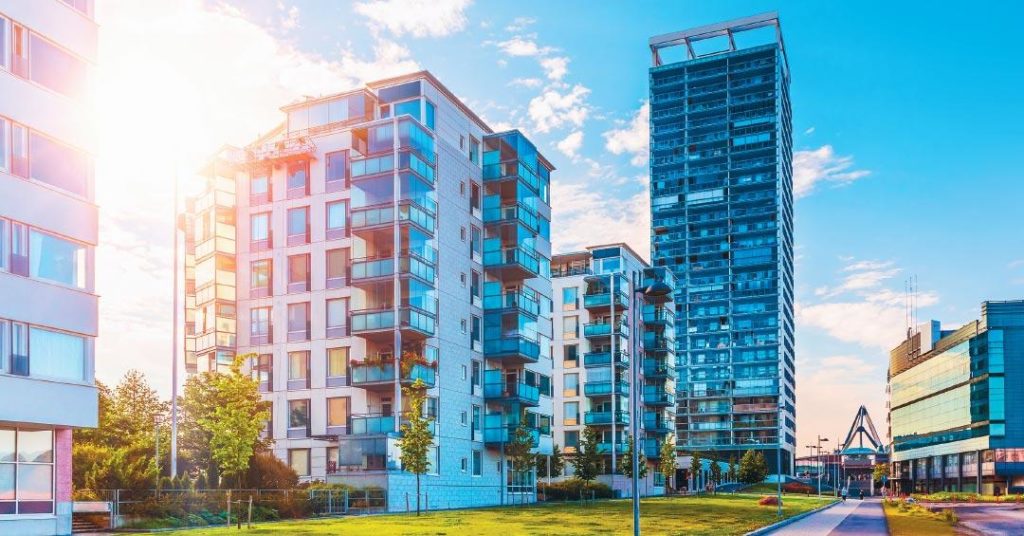 Säännöllinen elementtisaumojen huolto pidentää julkisivujen elinkaarta. Uusintasaumausta tulisi ryhtyä suunnittelemaan vanhojen saumojen halkeiltua tai mikäli saumat alkavat kokonaan irrota paikoiltaan. Pitkälle edenneiden vauroiden korjaustoimenpiteistä voi syntyä jopa satojen tuhansien eurojen kustannukset. Lisäksi vaurioituneista saumoista syntyy ylimääräisiä lämmityskuluja.
Read in another language:
Purpose
Rakennuksen lämmittäminen vaatii paljon energiaa. Mitä suurempi rakennus, sitä suurempi energiantarve. Taloyhtiön hoitokustannuksista lämmitys muodostaa ylivoimaisesti suurimman kuluerän. Mutta mitä jos osa arvokkaasta lämmöstä valuu jatkuvasti hukkaan?
Elementtitaloissa julkisivujen saumat kestävät 15–20 vuotta. Elementtisaumojen kesto riippuu kuitenkin rakennuksen sijainnista, saumaustyön laadusta ja käytetyistä saumausmateriaaleista. Todellinen kestoikä voi vaihdella 10 ja 25 vuoden välillä.
Ajoissa tehty saumaus tulee huomattavasti edullisemmaksi kuin mittava vesivuotokorjaus. Se myös ehkäisee kosteusvaurioiden syntyä, alentaa lämmityskustannuksia, parantaa sisäilman laatua, lisää asumisviihtyvyyttä sekä parantaa rakennuksen ulkonäköä. Mikäli saumat ovat ehtineet vaurioitua, pääsee sadevesi kulkeutumaan vauriokohdista lämmöneristyskerrokseen ja jopa sisätiloihin saakka, mikä aiheuttaa merkittävää energian hukkaa.
Saumojen uusimiseen tulisikin reagoida mahdollisimman nopeasti, sillä välitöntä säästöä saadaan lämmönvuodon lakkaamisesta. Rakenteiden kunnon seuraaminen sekä niiden hyvän lämpö- ja kosteusteknisen toiminnan varmistaminen edesauttavat sekä hyvän energiatehokkuuden, että kosteusteknisen toimivuuden saavuttamista.
Results
Saumalaakso toteuttaa laajamittaiset uusintasaumaukset keskimäärin 200 kohteeseen vuosittain.
Vuoden 2022 tehtyjen kohteiden mukaan keskiarvoinen rakennusvuosi kohteissa oli 1989 (33 vuotta vanhoja) ja tyypillisin kohde on kaksirappuinen viisikerroksinen kerrostalo.
Saumalaakso on toteuttanut uusintasaumauksia yli 6000 kohteeseen vuosina 1986-2021.
Suomen Rakennussaumausyhdistys ry tilasi tutkimuksen julkisivusaumojen vaurioitumisen vaikutuksista taloyhtiön energiankulutukseen. Mikäli rakennuksessa on jo ennalta vaurioituneita ja vuotavia saumoja, altistuu rakennus ylimääräiselle kosteusrasitukselle, josta seuraa julkisivujen vaurioitumisen lisäksi lämpöhävikkiä kasvavissa määrin.
Suomen Rakennussaumausyhdistys ry:n tilaamaan tutkimuksen mukaan, energiasäästöt ovat vaikuttavia:
Esimerkkikohde ja uusintasaumauksen tuomat energiasäästöt:
Seuraavassa taulukossa on esitetty arvio kolmen ja viiden vuoden aikana tapahtuvalle lämpöhäviön kasvulle ja siitä aiheutuvalle kustannukselle, mikäli uusintasaumausta ei toteuteta ajoissa.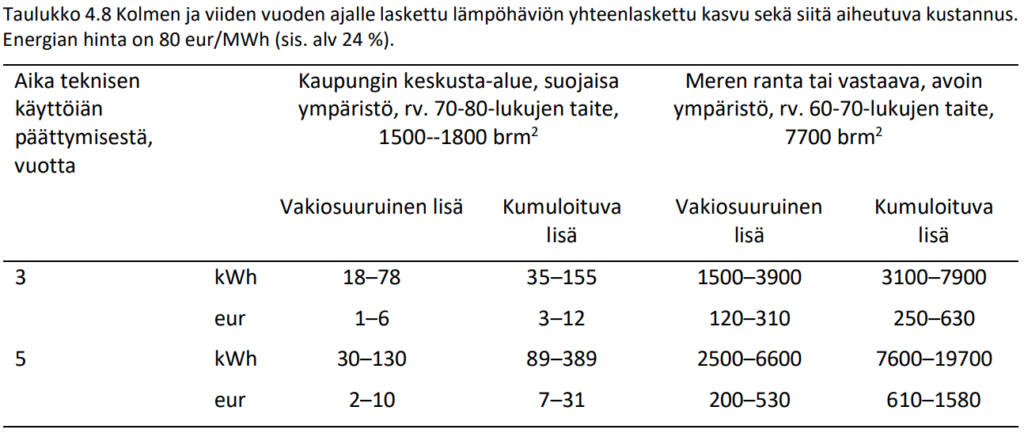 Tutustu laskelmien taustalla olevaan Suomen Rakennussaumausyhdistys ry:n tilaamaan tutkimukseen täältä: SRSY_Raportti
Implementation
Rakenteiden kunnon seuraaminen sekä niiden hyvän lämpö- ja kosteusteknisen toiminnan varmistaminen edesauttavat sekä hyvän energiatehokkuuden, että kosteusteknisen toimivuuden saavuttamista.
Saumalaaksolla on kunnioitettava, yli 30 vuoden ja tuhansien kohteiden kokemus saumaamisesta. Olemme erikoistuneet elementtien uusintasaumaukseen.
Hoidamme koko korjaustyön alusta loppuun: suunnittelun, materiaalitoimitukset ja urakoinnin.
Saumalaakson edustaja arvioi kunnostettavan kohteen ja tekee yksityiskohtaisen tarjouksen koko saumaustyön läpiviennistä sekä vastaa siitä, että työ etenee laaditun aikataulun ja budjetin mukaisesti onnistuneeseen lopputulokseen saakka.
Review
Major share of a citizen's carbon footprint comes from housing - the buildings they live in. In the buildings heating and cooling are some of the most significant emission sources. It is also a very difficult topic to influence oneself. Therefore the solutions that help reduce this footprint are welcome.

The solutions can have even a bigger handprint in case it can reduce the need to completely refurbish the houses as concrete is one of the major CO2 emission sources in the world. So less concrete, more repairs, the better for the world.
I'm an enthusiastic, goal-driven, experienced, and inspiring change leader as well as an impact builder and communication professional. I have been leading and played major parts in many sustainability business concepts, design processes, and impact projects. I have been building tools for scaling up impact and business for the past decade at Solved, Helsinki Metropolitan Smart & Clean Foundation, and Siemens. My background comes from news journalism.