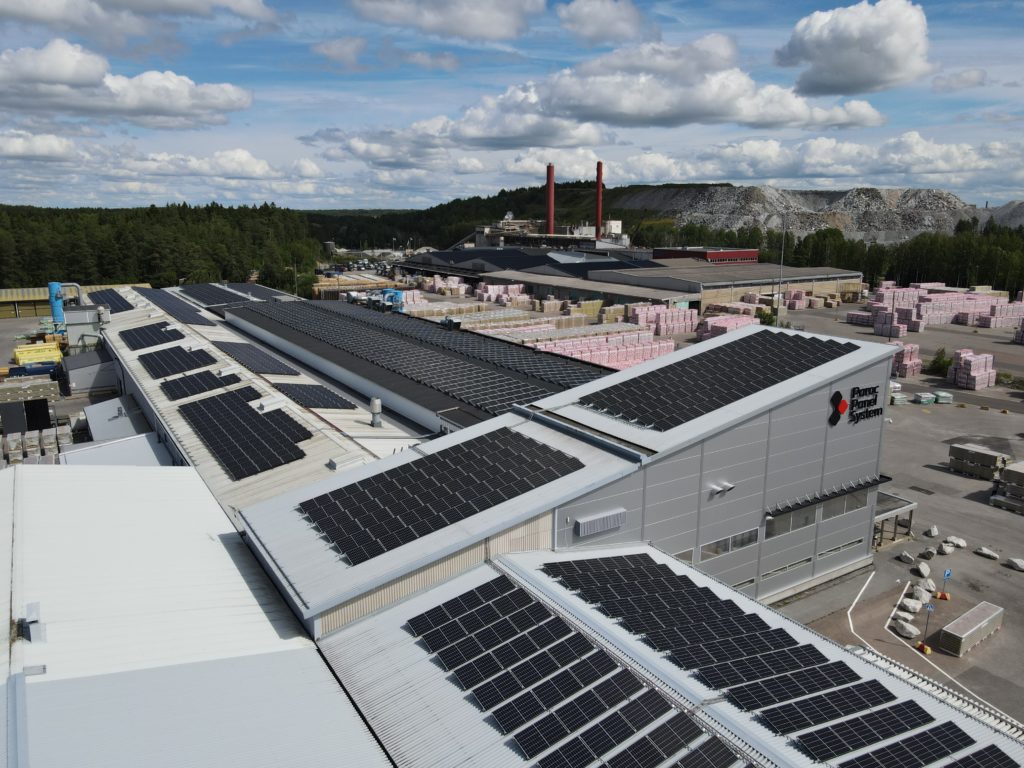 Kingspan, a leader in high-performance insulation and building envelope solutions, has set an ambitious goal to generate 20% of its total energy use from renewable sources on their wholly owned manufacturing sites by 2030. This aim is part of Kingspan's "Planet Passionate" initiative, a comprehensive ten-year global sustainability program, established to tackle three of the world's most critical environmental challenges: climate change, resource circularity, and the protection of natural ecosystems.
Purpose
Kingspan's goal is to increase renewable energy generated on their manufacturing sites to the equivalent of 20% of total energy use by 2030. To reach the goal, Kingspan's target is to install solar PV systems on all wholly owned Kingspan facilities, with an interim target of achieving 50% of sites by 2025, including Paroc Panel System in Parainen. This aims to help accelerate the conversion of fossil fuel-based energy use to renewable sources.
At the heart of this initiative is Kingspan's "Planet Passionate" program, a decade-long global sustainability program, designed to make a substantial impact on three of the world's most pressing environmental issues: climate change, circularity, and the protection of natural resources.
Results
Between March 2022 and March 2023, the solar panels at Paroc Panel System generated 524,37 MWh of renewable energy, comprising 15,6 percent of the facility's annual energy use of 3359,15 MWh (13 mo.).
However, the potential to generate renewable energy via solar panels can fluctuate due to geographic location, seasonal changes, and weather conditions. Parainen, though located in the southernmost part of Finland, has a clear energy production cycle, with peak generation occurring from March to October. The winter months from November 2022 to February 2023 only saw a production of 6,251 MWh, with December recording no energy production.
In summary, despite the seasonal variations, the installed solar panels at Paroc Panel System have contributed significantly to Kingspan's renewable energy goals. The results underscore the feasibility and efficiency of solar energy as a sustainable solution, even in regions with less optimal solar conditions.
Implementation
Around 1 600 solar panels were installed on top of the Paroc Panel System's roof in March 2022 and since then these solar panels have been producing renewable energy for the factory's use. Looking ahead, Kingspan plans to further optimize the use of the energy generated by the solar panels. One such initiative is to harness this renewable energy source for charging electric forklifts used at the site.
Review
This Planet Act enables production facility owners to implement dedicated solar power production for their own use. The model is scalable for large building owners or occupants and offers sizable CO2 emission reduction, but may require co-operation between a local utility company and the facility owner or management company.
A corporate responsibility veteran, with over two decades in the industry. He has held several notable positions, among them, he has served as the global sustainability chief at Nokia. There he has managed global corporate responsibility activities, environmental and social responsibility, social investment portfolios as well as disaster relief and charity donations.