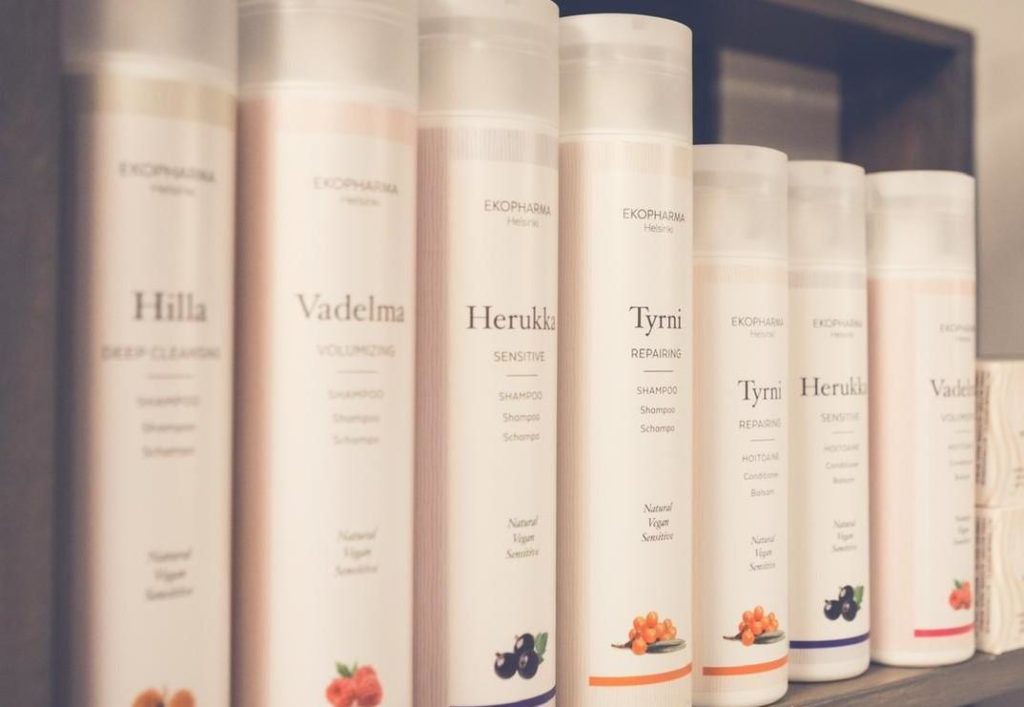 Arvomaailmamme ja toimintamme pohjautuu luonnonmukaiseen kauneudenhoitoon. Ekokampaamomme periaatteisiin kuuluu tarjota vain luonnonmukaista kosmetiikkaa myös kotihoitoon. Näin asiakas voi luottaa, että olemme tarkistaneet myymiemme tuotteiden taustat.
Purpose
Haluamme minimoida toimintamme ympäristövaikutuksia. Laadukkaassa luonnonkosmetiikassa huomioidaan raaka-aineiden lisäksi koko tuotteen elinkaaren aikaiset ympäristövaikutukset kuten pakkausmateriaalit, tuotantoprosessi ja logistiikka.
Kosmetiikan raaka-aineiden vaikutuksia terveyteen tutkitaan paljon, mutta haluamme ekokampaamossa tämän lisäksi perehtyä erityisesti kosmetiikan ympäristövaikutuksiin. Vastuullisella tuotevalikoimalla ohjaamme asiakkaita käyttämään tuotteita, joissa ympäristövaikutukset on otettu huomioon.
Results
Suosittelemme asiakkaita valitsemaan kotihoitotuotteiksi luonnonkosmetiikkaa, jolloin kosmetiikan aiheuttamat ympäristövaikutukset pienenevät.
Luonnonkosmetiikan kysyntä on noussut ekokampaamon perustamisen myötä viidessä vuodessa 150%.
Luonnonkosmetiikan osuus koko yrityksen (Hius ja Kauneus Studio Helmi ja Ekokampaamo LuonnonHelmi)
tuotemyynnistä oli n. 10% vuonna 2015 ja n. 40% vuonna 2020.
Implementation
Varmistamme, että myymämme tuotteet täyttävät laadukkaan ja eettisen luonnonkosmetiikan kriteerit. Suosimme kotimaisia ja lähellä tuotettua kosmetiikkaa, lisäksi haluamme tarjota vegaanisia vaihtoehtoja. Emme ota myyntiin tuotesarjoja, jotka eivät vastaa arvojamme.
Tuotevalikoimastamme 86% on kotimaisia ja 89% vegaanisia tuotteita. Tuotevalikoimassa huomioimme myös kosmetiikkapakkausten kierrätettävyyden ja olemme lisänneet zero-waste -tuotteiden osuutta.
Review
This Planet act illustrates how setting requirements for reselling of products and utilizing life cycle thinking can shape the product lines on offer and provide customers only responsible choices. This simplifies the purchasing of sustainable products as the customer does not need to find and select them from a larger portfolio of products. This act is scalable, but requires getting familiar on a detailed level with the products and definig of selection criteria.
A corporate responsibility veteran, with over two decades in the industry. He has held several notable positions, among them, he has served as the global sustainability chief at Nokia. There he has managed global corporate responsibility activities, environmental and social responsibility, social investment portfolios as well as disaster relief and charity donations.