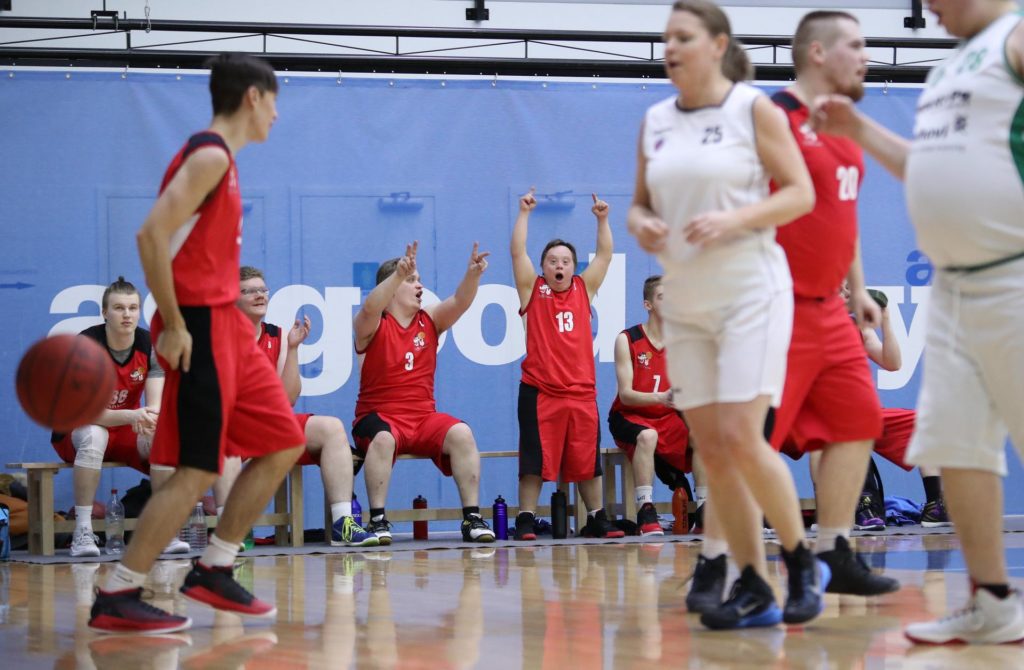 In Unified-basketball, disabled and other special needs athletes play together on same teams with non-disabled Unified-partner players. Unified-basketball and basketball for disabled are both Special Olympics sports, which landed in Finland through the EU Commission's Special Olympics Youth Plan in 2010.
Read in another language:
Purpose
Basketball clubs offer athletes the possibility to integrate and merge into the society and natural youths' lives. In addition, each player is given the chance to belong, as a plenipotentiary member, to a club and its social community.
Basketball Finland wants to further equality and equity, prevent discrimination, and enable a healthy and equal sports environment for all basketball players. Each person has the right to be part of our basketball family as who they are.
Results
Unified-basketball started in Finland in 2010. At first there were 135 disabled athletes and 39 coaches. Ten years later, in 2020 there were 257 athletes, 89 partner players, and 48 coaches. Unified-basketball is now organized and offered by 16 clubs across Finland.
The Finnish Unified national team has participated in the Special Olympics World Summer Games in 2015 (Los Angeles) and 2019 (Abu Dhabi).
Finnish know-how in Unified-basketball has already drifted across our own borders, as Finland has been consulted on the amazing work the clubs and the federation have done.
Implementation
Everyone has the right to take part and play basketball. The players do not need any official diagnosis in order to be part of Unified sports activity.
Unified-basketball organized by Basketball Finland started during season 2010. During 2019-2020 season, there were already several divisional levels and 20 participating teams.
One team can have three players and two partner players on the court at one time. The partner players cannot be in dominant roles on the court, but they should bring social and emotional intelligence to the game. The most important role for the partner players is to create basketball actions and show example.
In Unified activity girls/women and boys/men of different ages practice and play in same groups.
Playing time for games is 4×8 minutes, and Unified-basketball is played with common basketball rules.
Basketball Finland organizes a yearly camp event at Kisakallio Sports Institute for Unified-basketball athletes. More than 100 athletes and 15 coaches take part in the camp. The camp is an important happening, as it emphasizes social cohesion and sense of community for all in Unified-basketball, and it also plays a significant role when selecting participants to represent Finland in international competitions.
Review
Using sports to increase equality and inclusiveness of people with disabilities builds self-esteem of participants and decreases discrimination. Development of these concepts requires specific competences, dedication and commitment from the organizing sports federation or club.
This planet act is partially scalable particularly with organizations that have large membership base.
A corporate responsibility veteran, with over two decades in the industry. He has held several notable positions, among them, he has served as the global sustainability chief at Nokia. There he has managed global corporate responsibility activities, environmental and social responsibility, social investment portfolios as well as disaster relief and charity donations.