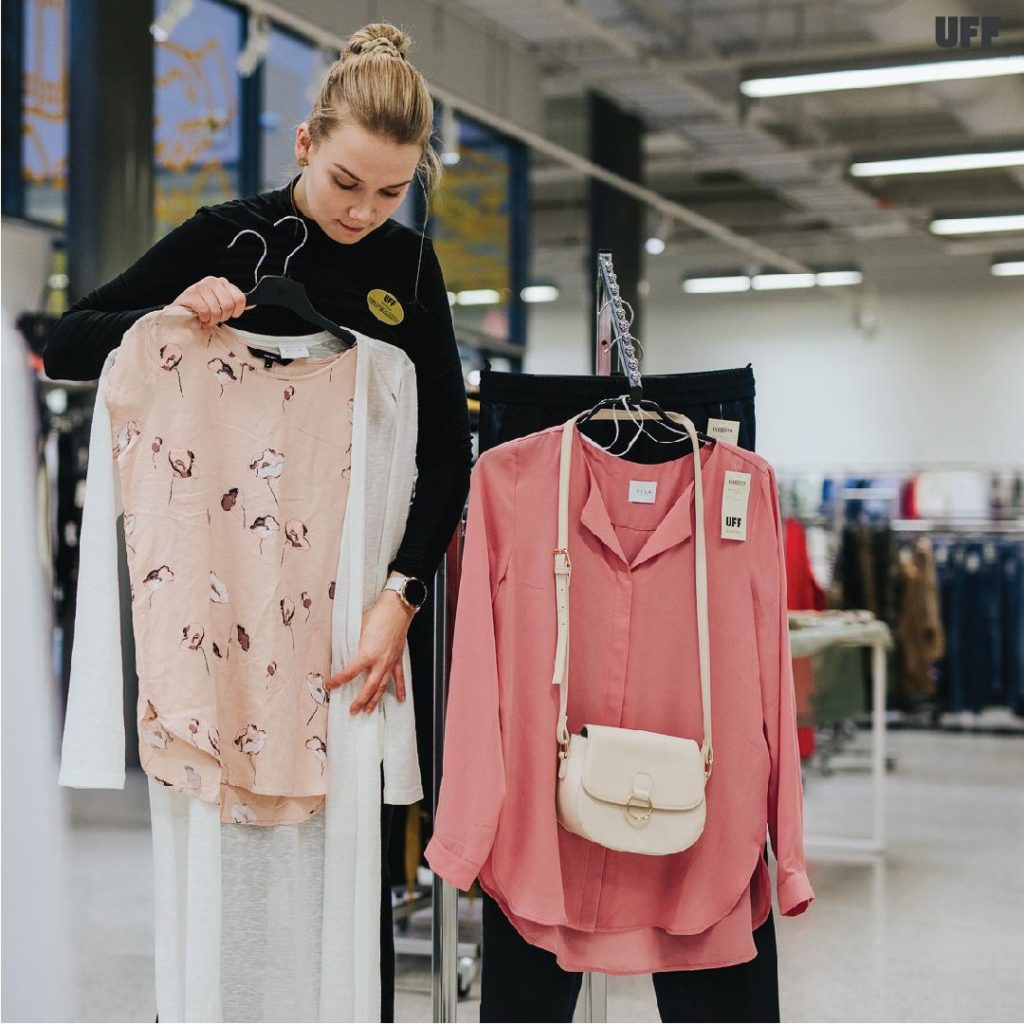 UFF brings climate action to the Finns with it's clothes collection service and second hand clothes shops. We contribute to sustainable development by maintaining our clothes collection service and offering the consumer a responsible way to recycle unnecessary clothes to reuse. Our goal is to achieve sustainable development with clothes recycling. We offer clothes donors and customer the chance to diminish their own carbon footprint by donating clothes and shopping second hand.
Our clothes collection service operates in over 280 municipalities with nearly 3 400 collection containers. Reusable clothes and home textiles can be donated to the clothes collection. UFF has over 20 second hand clothes shops in Finland, with over a million customers annually.
Read in another language:
Purpose
UFF is an independent Finnish foundation that contributes to sustainable development with its environmental and global development work. The clothes collection service the foundation has operated since 1987 reduces environmental stress through clothes recycling.
The goal of our environmental work is to direct clothes donations to reuse. We raise fund with the clothes sales towards maintaining the clothes collection service and supporting global development work.
Everyday acts like donating clothes further sustainable global development!
Results
The reuse of textiles means that a used product or part thereof is reused for the same purpose that it was originally designed for. Reusing clothes that are usable in their current condition is the best option from the point of view of the environment because it reduces the production of new textiles. This reduces textile waste, the consumption of energy and water, greenhouse gas emissions and the use of harmful chemicals. In addition the reuse of clothes helps to diminish land use in textile fiber cultivation freeing land for food production.
Climate change can be effectively restrained by favoring second hand clothes instead of buying new. UFF helps it clients to reduce their own carbon footprint by offering the chance to buy second hand clothes. The clothes industry accounts for about tenth of the world carbon footprint and the production process accounts for about 90 % of the overall carbon footprint of a product.  For example the reuse of a cotton t-shirt saves 7 kilos in carbon emissions and about 2 800 liters of water when compared to the production of a new shirt.
In 2021 UFF was able to direct a hundred percent of the over 13,4 million kilos of donated clothes to reuse as such or as material. The foundation has collected in it's close to 35 years of operations over 220 million kilos of clothes for reuse and achieved a reduction of over 5 million tons of carbon dioxide equivalents in carbon emissions compared to the emissions produced by the manufacturing of new clothes.
In 2021 UFF's carbon hand print i.e. the emission reduction from it's operations was over 300 000 tons of carbon dioxide equivalents and in 2020 they were about 360 000 tons of carbon dioxide equivalents. The emission reductions are born from the reuse of donated clothes.
Implementation
We bring everyday environmental acts to all Finns by providing clothes collection service to all of Finland. Reusable clothes and home textiles can be donated to the clothes collection service. The donations are sorted carefully in order to achieve a reuse rate as high as possible in order to maximize the environmental benefits of clothes recycling.
The donations are directed to reuse via retail and whole sale. UFF has over 20 second hand shops in Finland. The majority of the collected clothes are directed to reuse via whole sale. The sales proceeds from both the retail and the whole sale are directed towards environmental and global development work.
Review
In an era of consumerism, the actions of UFF come and bring us back to what is important! Why to spend more if you can have acceptable quality with less. A great example and help for many people. Also great to the Planet, resources saved, less waste, less CO2.
Green circular economy enthusiast, with 20+ years of expertise in promoting and representing the Finnish and Nordic expertise in the energy, environment, and infrastructure sectors, currently working as a consultant at Zazi Nordic Business.
Review
This Planet act captures the impact of reuse of clothes and how reused products are offered to people in away that they provide similar or even better purchasing experience than buying of new clothes. In addition, this business model supports global environmental and other development programs. This act is partially scalable in businesses that offer consumer goods, but requires specific competences and expertise to organize and operate.
A corporate responsibility veteran, with over two decades in the industry. He has held several notable positions, among them, he has served as the global sustainability chief at Nokia. There he has managed global corporate responsibility activities, environmental and social responsibility, social investment portfolios as well as disaster relief and charity donations.