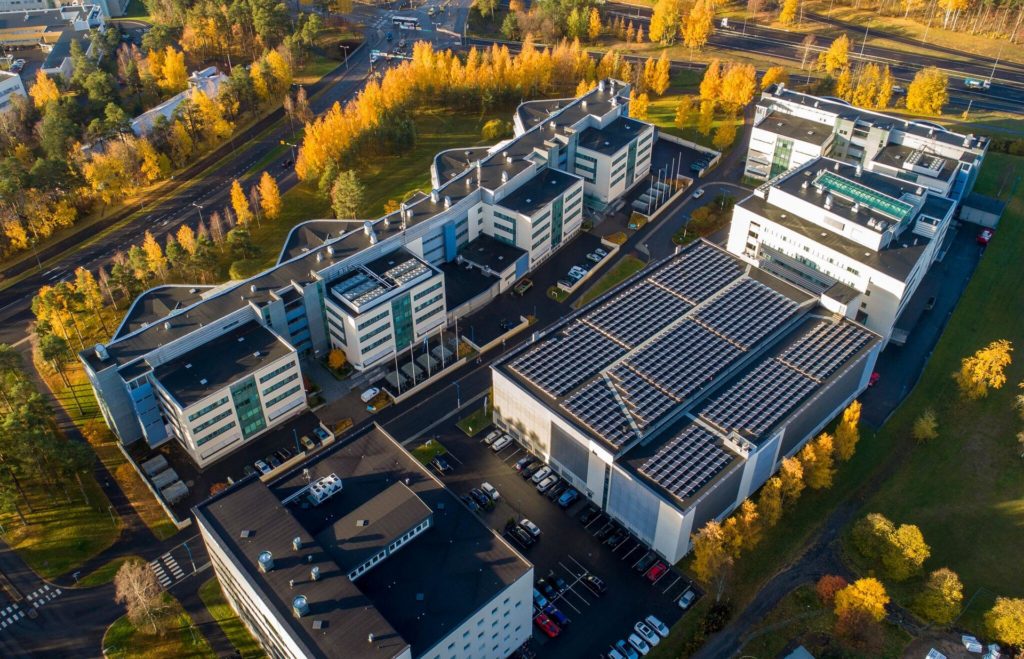 In 2018 Technopolis and Oulun Energia (currently Oomi) analyzed the solar power production potential of all the Technopolis office campuses in Oulu. After the analysis, Technopolis entered into an extensive purchase contract of solar power plants for its properties under a long-term service agreement and power plants were installed in several buildings. The combined capacity of Oulu's solar power plants is 853 kWp and more solar panels are being installed currently.
Read in another language:
Purpose
The purpose was to increase the production of on-site renewable energy and with this cooperation model, we succeeded to create new on-site energy efficiently and make good use of our roofs. The size of the solar power plants has been optimized to best match the electricity consumption profile of each property. Own production cuts the toughest consumption spikes.
We strive to create added value for our customers through sustainable operations, and we are constantly looking for different ways to improve the environmental friendliness and cost-effectiveness of our buildings. Solar panels are one visible example of our practical environmental work.
Results
The combined capacity of Oulu's solar power plants is 853 kWp and these power plants have a total of 4,057 solar panels. At the Oulu solar power plants, Technopolis has access to approximately 700,000 kWh of clean solar electricity produced in the properties per year. One new power plant is currently under construction.
Implementation
The first step is to analyze the solar power production potential and after reviewing the results, the next step is to find the most suitable implementation model.
Review
Inspiring partnership and service agreement model. A sizeable installation indeed and great productive use of often underutilized rooftop space in larger buildings. A model for larger property developers.
International relations expert with extensive global experience in sustainable development and energy transitions. Currently working with Sustainable Energy for All, an international organization working in partnership with the United Nations and leaders in government and the private sector to accelerate action towards sustainable energy – in line with SDG 7 and the Paris Agreement on climate. * All reviews represent the personal opinion of an expert
Review
Changing to renewable power is probably the most significant climate action we can take. This is a good example of how a port of production can be turned to renewables. The technologies to support this change are already available, such as batteries and micro girds, so when the prices drop even further the change will take more pace even in Finland. Thankfully we are creating excellent tools for property owners to help in the use of solar power, such as the solar power 3D map created for Helsinki that evaluates the time of sunlight that would hit the surfaces.
I'm an enthusiastic, goal-driven, experienced, and inspiring change leader as well as an impact builder and communication professional. I have been leading and played major parts in many sustainability business concepts, design processes, and impact projects. I have been building tools for scaling up impact and business for the past decade at Solved, Helsinki Metropolitan Smart & Clean Foundation, and Siemens. My background comes from news journalism.
Review
This Planet Act enables facility owners to implement dedicated solar power production for their own use. The model is scalable and offers sizable CO2 emission reduction, but requires deep co-operation between a local utility company and the facility owner or management company.
A corporate responsibility veteran, with over two decades in the industry. He has held several notable positions, among them, he has served as the global sustainability chief at Nokia. There he has managed global corporate responsibility activities, environmental and social responsibility, social investment portfolios as well as disaster relief and charity donations.