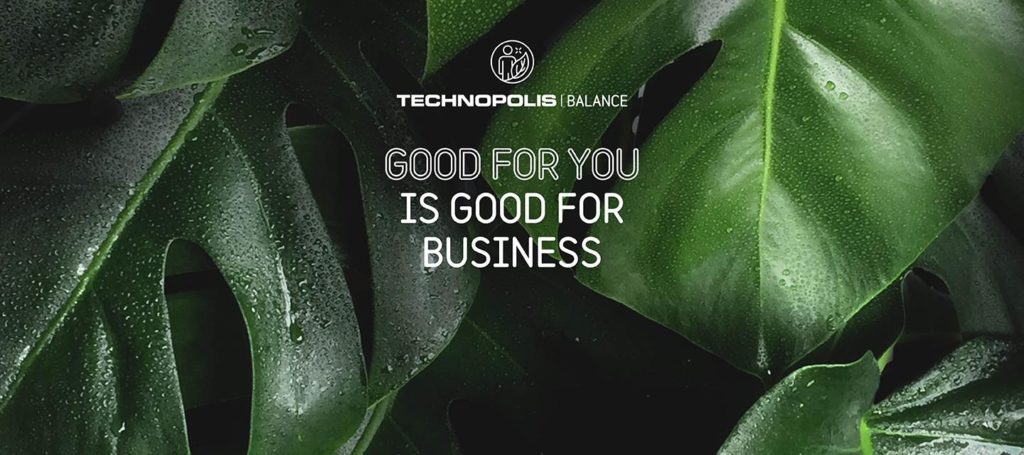 Technopolis Balance – Good for you is good for business.
Technopolis is the shared workspace expert. We provide efficient and flexible offices, coworking spaces and everything that goes with them.
We want to promote the holistic well-being of companies and their employees. Technopolis Balance is a unique combination of services that makes your work environment feel and work better.
Read in another language:
Purpose
A work environment that supports well-being and productivity consists of a combination of suitable workspaces, appropriate furniture as well as solutions for successful project execution. Elements such as healthy eating, exercise options, and possibilities to analyze body functions with ways to enhance recovery, also improve the overall well-being.
The purpose of Balance is to create value, simplify everyday life, and increase well-being among companies and their employees. We believe that wellness elements are a great way to motivate people as well as ensure their well-being, whether they are working remotely or from the office.
Results
The service combination is fresh and in a launch phase. At the same time, we already see changes in behavior in terms of interest, discussion, and how we value things.
Implementation
All the elements within Balance are quite easy to take into use. You can do it step by step or by carrying out the whole combination of the service.
We highly recommend a thorough analysis of your workspace involving the people, to create the best possible work environment for the future.
Review
This Planet Act allows companies to easily support the well-being of their employees in their offices. This service helps particularly SMEs to systematically implement well-being into practice. This act is scalable in the facility management business.
A corporate responsibility veteran, with over two decades in the industry. He has held several notable positions, among them, he has served as the global sustainability chief at Nokia. There he has managed global corporate responsibility activities, environmental and social responsibility, social investment portfolios as well as disaster relief and charity donations.