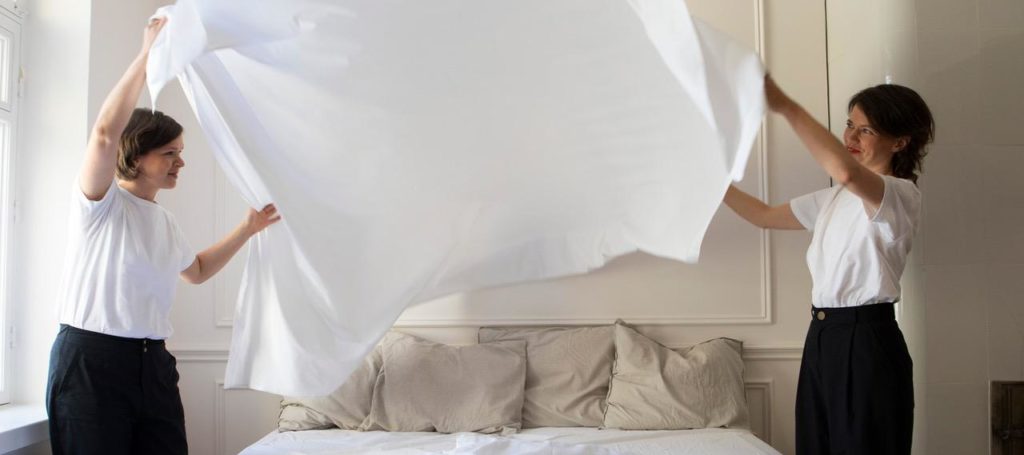 TAUKO is a sustainable nordic fashion house based in Helsinki, Finland. Our production concept is based on designing a new lifecycle for locally sourced industrial textiles, which are used during their first lifecycle as bedsheets for hotels and healthcare. To rescue the high-quality textiles from being burned in massive amounts, we have collaborated with a network of small manufacturers and dyeing houses. This is the core element of our fashion line. Used, high-quality textiles that are reworked for our collections supporting local economies.
Read in another language:
Purpose
Our mission is to show how extending textile lifecycles creates a new culture of circularity and production methods for fashion.
Results
The design and production concept has been awarded by the British Council. The awareness of waste side streams and their potential for the fashion industry has been recognized by a wider audience. The production method has been developed to serve the seasonal TAUKO womenswear collection presented at the international fashion weeks (Berlin, Paris).
Implementation
The reuse of industrial textiles for fashion is based on the collaboration with the local textile maintenance services, dye houses, and sewing workshops.
Review
Operating a business that builds products from the waste of other industries requires a specific supply chain and product design efforts. These business models are beginning to merge in small scale businesses, but have the potential to inspire customers and new innovations. This act can be limitedly scaled in where reusable materials are available in suitable form and volume.
A corporate responsibility veteran, with over two decades in the industry. He has held several notable positions, among them, he has served as the global sustainability chief at Nokia. There he has managed global corporate responsibility activities, environmental and social responsibility, social investment portfolios as well as disaster relief and charity donations.