Suomen Hiihtoliitto – Hiilineutraali Helsinki Ski Weeks
Lumi on hiihdolle elinehto. Jotta lumilajit olisivat mahdollisia myös tuleville sukupolville, Suomen Hiihtoliitto pyrkii kaikessa toiminnassaan kuormittamaan ympäristöä mahdollisimman vähän ja hillitsemään ilmastonmuutosta. Helsinki Ski Weeks -tapahtumakokonaisuus järjestettiin hiilineutraalina. Se oli samalla Hiihtoliiton pilottihanke, jonka kokemusten ja tulosten avulla ilmastotyötä laajennetaan kattavasti Suomen Hiihtoliiton alaiseen toimintaan.
Share this Act and help it spread
Help this Act to spread by sharing it on Facebook, Twitter, or LinkedIn.
Invite an organization
Invite an organization to do this Act
0
Organizations invited
Purpose
Helsinki Ski Weeks järjestettiin vuonna 2022 ensimmäistä kertaa. Tapahtuma rakentui alusta asti tavoitteelle suunnitella ja toteuttaa mahdollisimman vastuullinen ja erityisesti ympäristö- ja ilmastonmuutosasiat huomioiva kokonaisuus: lähtökohtana oli miettiä uusia toimintatapoja vanhojen toimintamallien sijaan, joiden tiedettiin olevan ilmastoa ja ympäristöä kuormittavia. Pyrkimyksenä oli järjestää tapahtuma mahdollisimman vähäpäästöisenä ja kompensoida päästölaskemisen jälkeen jäljelle jääneet päästöt. Helsinki Ski Weeks on osa Suomen Hiihtoliiton laajempaa vastuullisuusstrategiaa. Se toimi pilottitapahtumana, jonka kokemusten ja tulosten perusteella vastuullisuustyötä laajennetaan Suomen Hiihtoliiton ja sen alaisten seurojen muihin tapahtumiin ja toimintaan. Tapahtuman omien hiilipäästöjen vähentämisen rinnalla koemmekin, että vastuullisuustyömme merkittävä fokus on vaikuttamismahdollisuutemme sidosryhmiemme toimintaan.
Results
Helsinki Ski Weeks 2022 -tapahtuman hiilijalanjälki oli 104,51 tCO2ekv. Tapahtumasta tehtiin perusteellinen ja huolellinen hiilijalanjälkilaskelma, joka huomioi kaikki tapahtuman päästöjä synnyttävät osa-alueet eli liikenteen päästöt (henkilöliikenne ja tavarakuljetukset), energian käytön, jätteet, materiaalihankinnat, palvelut sekä ruoan ja juoman.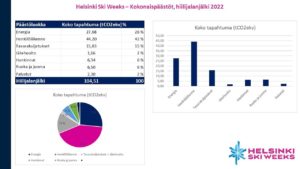 Tapahtuman virallinen ilmastokumppani Santander kompensoi tapahtuman jäljelle jääneen hiilijalanjäljen Kolumbiassa toteutetun Gold Standard -sertifioidun The Vichada Climate Reforestation project kautta.
Tapahtumasta tehtiin suunnitteluvaiheessa arviolaskelma, jolla selvitettiin tapahtuman päästöjä tilanteessa, jossa mihinkään päästöjä alentaviin toimenpiteisiin ei olisi ryhdytty. Arviolaskelman mukaan päästöt olisivat olleet noin 600 tCO2ekv. Koronarajoituksista johtuen tapahtuman arvioitu osallistujamäärä ei kuitenkaan toteutunut arviolaskelman mukaisesti. Arviolaskelmat oli tehty noin kaksi kertaa toteumaa suuremmalla osallistujamäärällä, joten varovaisesti voimme arvioida, että ilman tehtyjä toimenpiteitä tapahtuman päästöt olisivat olleet noin 300 tCO2ekv.
Implementation
Tapahtumalle laadittiin vastuullisuussuunnitelma. Suunnitelmaa varten arvioitiin niitä osa-alueita ja toimia, jotka aiheuttavat tapahtumissa eniten päästöjä, ja näitä päästöjä lähdettiin vähentämään konkreettisilla toimilla. Merkittävimpiä toimenpiteitä olivat esimerkiksi kansainvälisen Stadion Sprint -sprinttihiihtokilpailun sijoittaminen ajallisesti niin, että ulkomaalaiset urheilijat olivat jo saapumassa Suomeen Lahden Salpausselän kisoja varten. Näin ylimääräisiä lentoja ei tapahtumaa varten tarvittu lainkaan. Toinen erittäin merkittävä päästövähennyksiä tuonut toimenpide oli vihreän energian käyttö. Lisäksi liikkumiseen ja kuljetuksiin kohdistettiin monia toimenpiteitä ja mm. lumen kuljetukset tehtiin uusiutuvilla polttoaineilla.
Päästövähennyksiä saadaan aikaiseksi vain konkreettisilla teoilla; hienot suunnitelmat eivät päästöjä vähennä, ja tässä onnistuminen vaatii kaikkien organisaation jäsenten sitoutumista ja ilmastoystävällisten valintojen tekemistä omassa työssään. Helsinki Ski Weeks laati omalle tapahtumaorganisaatiolle sekä kaikille sidosryhmilleen 10 kohtaa sisältävät selkeät ohjeet, joiden avulla päästövähennyksiin pyrittiin. Mottomme vastuullisuustyössä oli Esse, non Videri – Tehdään, ei teeskennellä!
The People's Voice
No comments yet
Other Climate Planet Acts