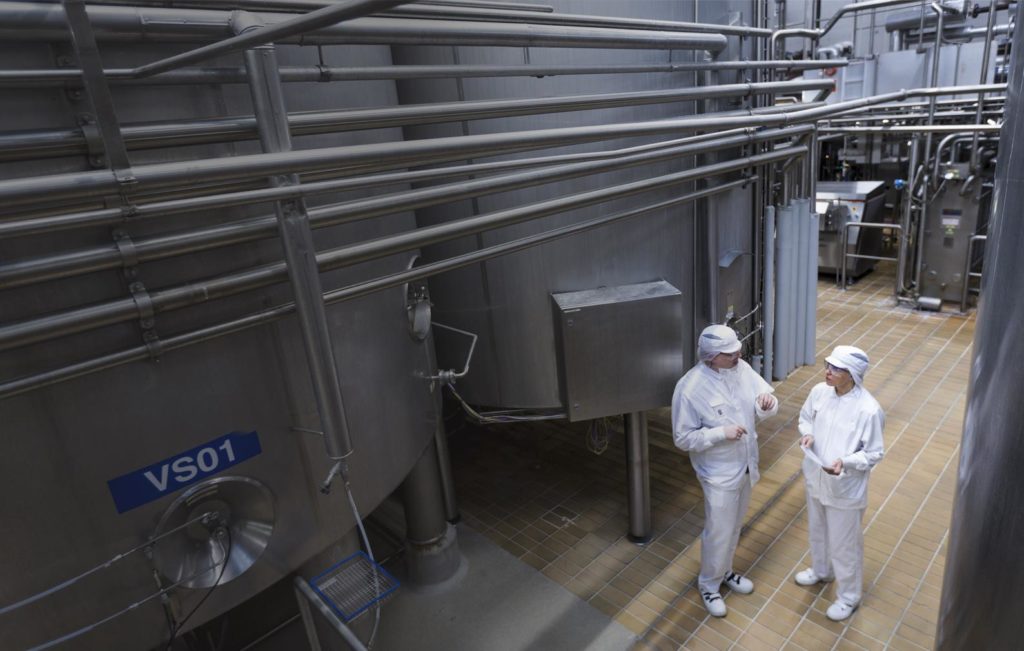 The new Kiilto ProCIP digital service uses researched data to optimize the consumption of water, chemicals, energy and time used in circular cleaning in food industry. The savings achieved are easy to verify. Optimization of CIP cycles can save more than two million liters of water per year.
Purpose
The CIP or Clean-in-Place cycles are one of the largest automatic cleaning processes in the production facilities. One CIP cycle can include, for example, initial rinsing, alkaline washing, intermediate rinsing, acid washing, final rinsing and sterilization. The purpose of the development work has been to create a system where the cleaning process can be remotely monitored, and the impact of the measures taken could always be clearly demonstrated. The aim has also been that all decisions would be based on examined data collected from the facilities. Equipment used in food industry are cleaned regularly, as their hygiene must meet very high quality standards. Optimization of CIP cycles saves water, chemicals, energy and time. It can actually save more than two million liters of water per year. The solution helps the food industry to save natural resources.
Results
Continuous monitoring helps to ensure the uniformity of CIP cleaning cycles, and that way it is possible to avoid both over- and under-washing. Each CIP cycle comes with accurate reports and statistics. When less water, energy, chemicals and time can be used for CIP, it help both Kiilto's and the customer's to achieve environmental goals. For example, in one customer site, the optimization service helped to significantly reduce water consumption, saving two million liters of water in less than a year. The new optimization service also has other benefits. The service also frees personnel at the facilities from unnecessary data collection and problem identification, saving work hours. Less is more, on many levels.
Optimization of CIP cycles can save more than two million liters of water per year
Implementation
A couple of years ago, Kiilto began to develop a solution for an optimization service, which would combine in-house expertise, anomaly detection and monitoring of cleaning. The development work is now complete. Kiilto ProCIP is a solution that combines information collected from the customer's process automation, its analysis and Kiilto's expertise. It ensures that CIP processes are consistent with operational objectives as well as quality requirements. Kiilto´s experts help to analyze the data collected from the factory, identify optimization opportunities and modernize cleaning processes accordingly.
The customer wishes were also surveyed in the development process. The results showed that they also were looking for more detailed information on the benefits of optimization measures and more transparency in the processes.
The software used in the service also calculates how the measures affect hygiene-related costs. The estimates are that with Kiilto ProCIP, cost savings of up to tens of percent can be achieved in the food industry.
Waiting for the first expert review.