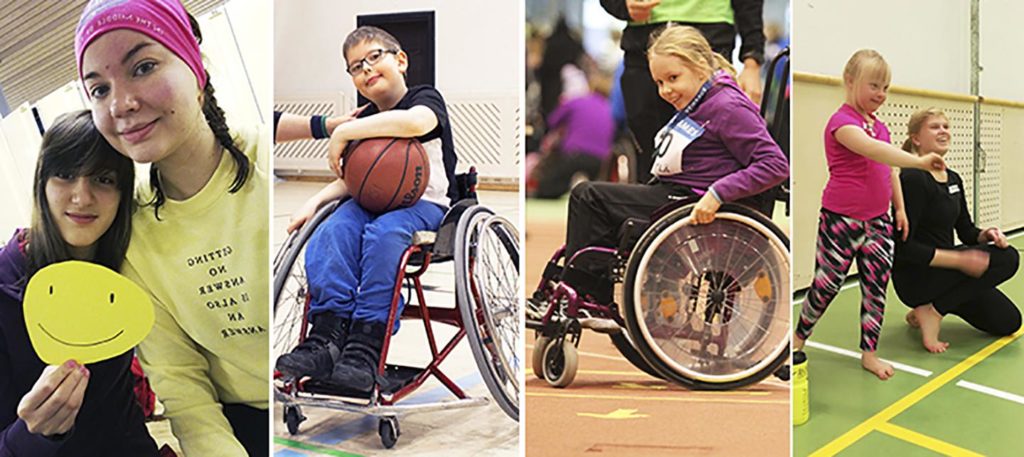 Valtti Program is organized by the Finnish Paralympic Committee. Its goal is to help children with special needs find a physical hobby. In Valtti Program a personal adapted physical activity instructor (PAPAI) guides a child or young person with special needs into a suitable hobby. The term 'Valtti' is the Finnish equivalent of PAPAI.
Read in another language:
Purpose
In Finland children and young people with special needs do not move enough. These young, aged 6–23, can apply for the Valtti Program. The PAPAIs are students from the fields of physical education, education and pedagogics, rehabilitation and social welfare who are interested in adapted physical activity. The PAPAI acts as their client's hobby friend, instructor, support person and consultant who arranges at least four activity try outs.
Results
During 2016, the Valtti model was tested in some 20 localities in collaboration with 19 universities of applied sciences, universities and institutions for physical education. The original Valtti pilot in 2016 was part of the three-year (2015–2017) SEDY project, whose goal was to help disabled children and young people to engage with physical activities. The Finnish partner of the project was the Finnish Sports Association of Persons with Disabilities (now the Finnish Paralympic Committee). In 2017-2019 the programme received financial support from the Ministry of Education and Culture, but now it is dependent on support from the private sector. With help of the new SEDY2 -project, which started in January 2020, The Finnish Paralympic Committee has set the goal of creating a permanent practise based on Valtti for guiding disabled children and young people to sports hobbies.
The research in the SEDY project showed that 54% of the children found a hobby via the programme and it added motion among 61% attendees. During the years 2016-2021 altogether 1154 children have started Valtti program.
Valtti Program increases equality in many ways. In 2016-2021 already 1617 people have been acting as an Valtti instructor. Yearly approximately 85% of these Valtti instructors recommend it also to others.
Implementation
Children and young people with special needs aged 6–23 can apply for the Valtti Program in the spring. A student who wishes to become a PAPAI will act as their client's hobby friend, instructor, support person and consultant.
The programme is directed first and foremost at children and young who have a disability or long-term illness that hampers finding a sports hobby or participating in sports groups. Families can determine themselves whether the child or young person belongs to the target group, i.e., whether they are in need of special assistance.
Review
This planet act showcases how a program benefitting special need youth can also provide learning opportunity, practical on-the-job experience and study credits for students. This act is locally scalable up to a point, but larger scaling would require a nationally operating large organization to ensure nation wide availability and service covering.
A corporate responsibility veteran, with over two decades in the industry. He has held several notable positions, among them, he has served as the global sustainability chief at Nokia. There he has managed global corporate responsibility activities, environmental and social responsibility, social investment portfolios as well as disaster relief and charity donations.