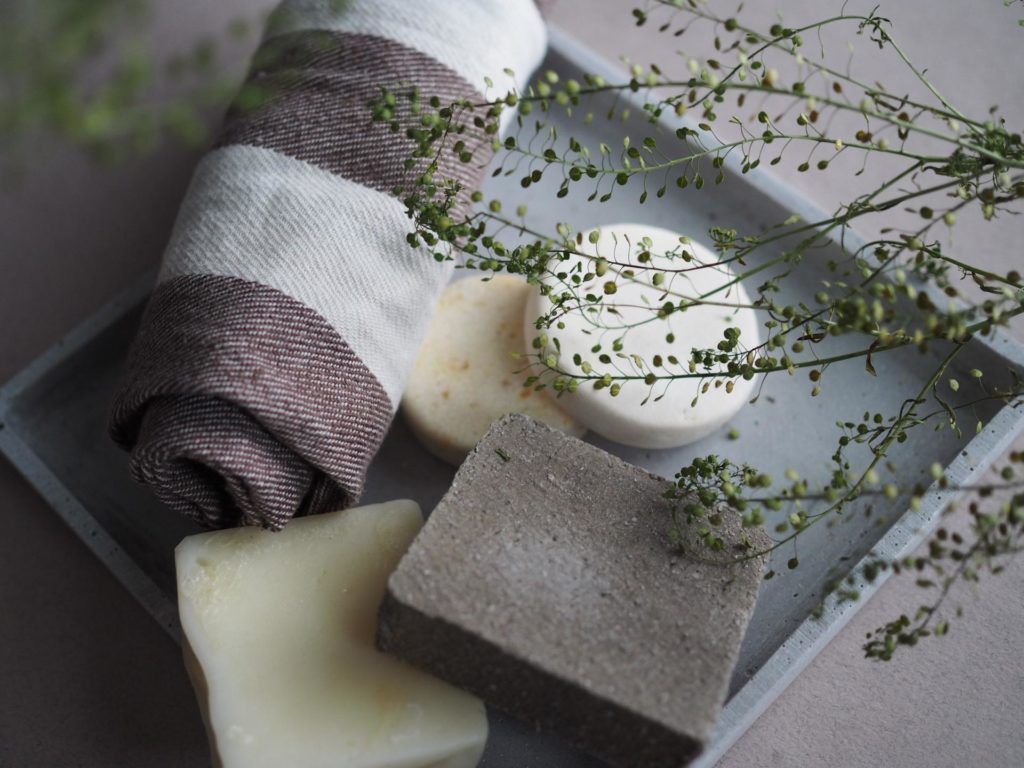 Työssäni koulutettuna ekokampaajana suosin ensisijaisesti kotimaisia raaka-aineita sekä kosmetiikkabrändejä. Lähituotanto pienentää hiilijalanjälkeä, kun kaikkia tuotteita ei lennätetä toiselta puolelta maailmaa. Lähes kaikki jälleenmyyntituotteeni asiakkailleni ovat kotimaisia brändejä. Omalla toiminnallani pyrin edistämään kotimaisen ja eettisen tuotannon myyntiä sekä antaa mahdollisuuden asiakkailleni valita lähituotantoa.
Purpose
Omalla toiminnallani pyrin edistämään kotimaisen ja eettisen tuotannon myyntiä sekä annan mahdollisuuden asiakkailleni valita lähituotantoa. Olen myös tehnyt yhteistyötä kotimaisen kosmetiikkavalmistajan kanssa, jotta tuotteesta saatiin mahdollisimman ympäristöystävällinen, vesistöä huomioiden.
Results
Viime vuonna myin noin 500 kpl kotimaista luonnonkosmetiikan tuotetta asiakkailleni. Kaikesta myymästäni kosmetiikasta lähes 90% on kotimaista ja luonnonkosmetiikkaa.
Lähes puolet myymästäni kosmetiikasta on zero waste palatuotteita, jotka ovat pakattuna pahviin. Se tarkoittaa noin paria sataa säästettyä muovipulloa/vuosi. Palatuotteet on helppo käyttää loppuun asti, joten turhaa jätettä ei pääse syntymään.
Implementation
Myyntituotteissa kiinnitän huomiota erityisesti näihin seikkoihin:
– Valitsen ensisijaisesti suomalaista luonnonkosmetiikkaa.
– Pyrin suosimaan sulfaatittomia tuotteita, sillä sulfaatti on vesistöjä rehevöittävä raaka-aine.
– Jos mahdollista, suosin zero-waste -tuotteita tai kierrätysmuovia.
– Tarkistan, millaisia arvoja brändillä on ja kuinka he huomioivat ekologisuuden sekä biohajoavuuden tuotteissaan.
Myyn yhteensä neljän eri tuotesarjan hiuskosmetiikkaa, joista kolme ovat Suomalaisia brändejä. Tavoitteenani on tulevaisuudessa lisätä kotimaisen luonnonkosmetiikan myyntiä ja kehitystä. Koulutettuna ekokampaajana teen yhteistyötä kotimaisten brändien kanssa ja kannustan kehittämään tuotteita mahdollisimman ympäristöystävälliseen suuntaan. Vuosien kuluessa tavoittelen sitä, että kaikki myymäni kosmetiikka on 100% luonnonkosmetiikkaa.
Review
This Planet act illustrates how setting requirements for reselling of products can shape the product selection and provide customers only responsible choices. This simplifies the purchasing of ecological products as the customer does not need to find and select them from a larger portfolio of products. This act is scalable, but requires getting familiar on a detailed level with the products and definig of selection criteria.
A corporate responsibility veteran, with over two decades in the industry. He has held several notable positions, among them, he has served as the global sustainability chief at Nokia. There he has managed global corporate responsibility activities, environmental and social responsibility, social investment portfolios as well as disaster relief and charity donations.