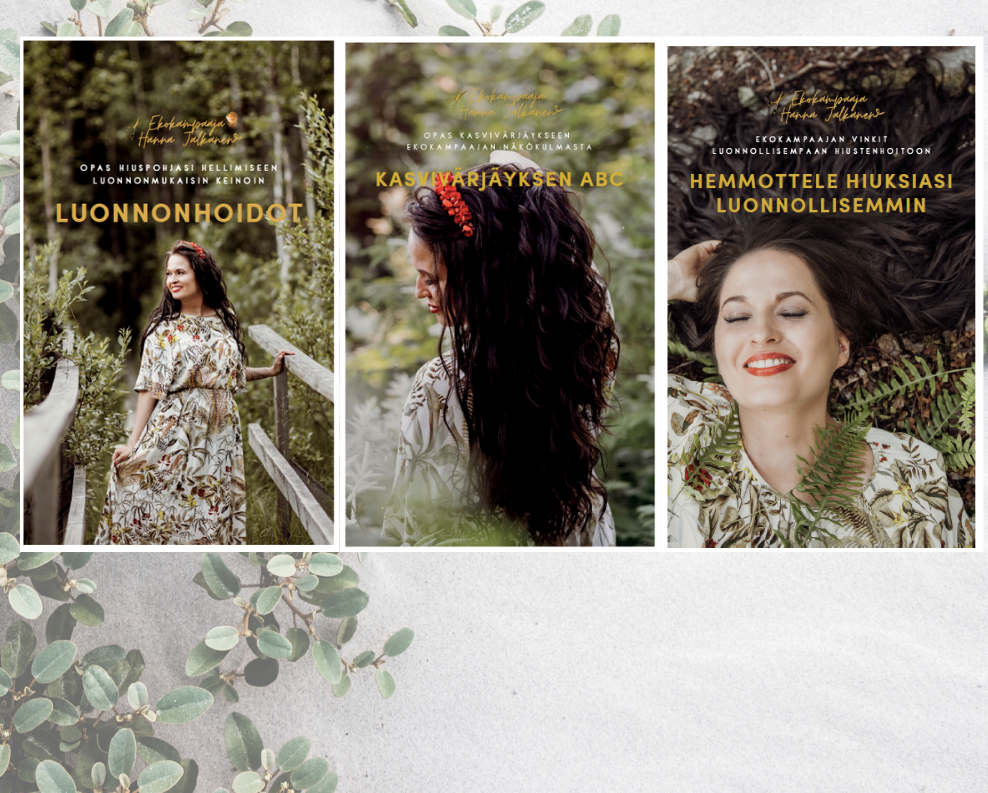 Kaikki oppaat yhdessä käsittelevät kokonaisvaltaista ja ekologista hiustenhoitoa. Missioni ekokampaajana on näyttää kaikille, miten rikas luonnonmaailma on. Tiedon jakaminen on mahdollisuus muuttaa tulevaisuuttamme tässä kemikaalien täyttämässä maailmassa. Toivon, että työni kautta saan inspiroitua ihmisiä valitsemaan ympäristöystävällisemmän vaihtoehdon.
Read in another language:
Purpose
Opas on sähköinen, jotta voidaan säästää paperia sekä hiilijalanjälkeä postituksessa. Oppaiden sivumäärät ovat 14, 19 ja 21, joten pieniä oppaita on turha lähteä postittamaan. Oppaan ostaja voi itse valita mahdollisen tulostuksen, mutta virtuaalinen versio kannustaa asiakasta hyödyntämään opasta sellaisenaan.
Tarkoituksena on säästää paperia ja huomioida oppaiden hiilijalanjälki.
Results
Olen kirjoittanut virtuaalisia ekokampaajan e-oppaita. Niitä on myyty tähän mennessä 150 kappaletta, joiden yhteenlaskettu sivumäärä on noin 2600 kpl A4 paperiarkkia. Kolmas e-oppaani jatkaa samalla linjalla, joten lisää paperisäästöä on tulossa.
Tavoite olisi myydä 100 kpl uutta opasta, jolloin se tarkottaisi 2100 säästettyä A4 paperia.
Implementation
Sähköisiä oppaita on kolme:
-Luonnonhoidot hiuspohjan hellimiseen (14 sivua)
-Kasvivärjäyksen ABC (19 sivua)
-Hemmottele hiuksiasi luonnollisemmin (21 sivua)
Tähän mennessä kahta ensimmäistä opasta on myyty 150 kpl, jonka myötä on säästetty noin 2600 A4 paperisivua.
Review
This Planet act demonstrates how educating customer can change their purchasing decisions and make environmentally lower impact products more widely known. Customer education through digital tools is highly scalable and could be used by all types of organizations.
A corporate responsibility veteran, with over two decades in the industry. He has held several notable positions, among them, he has served as the global sustainability chief at Nokia. There he has managed global corporate responsibility activities, environmental and social responsibility, social investment portfolios as well as disaster relief and charity donations.