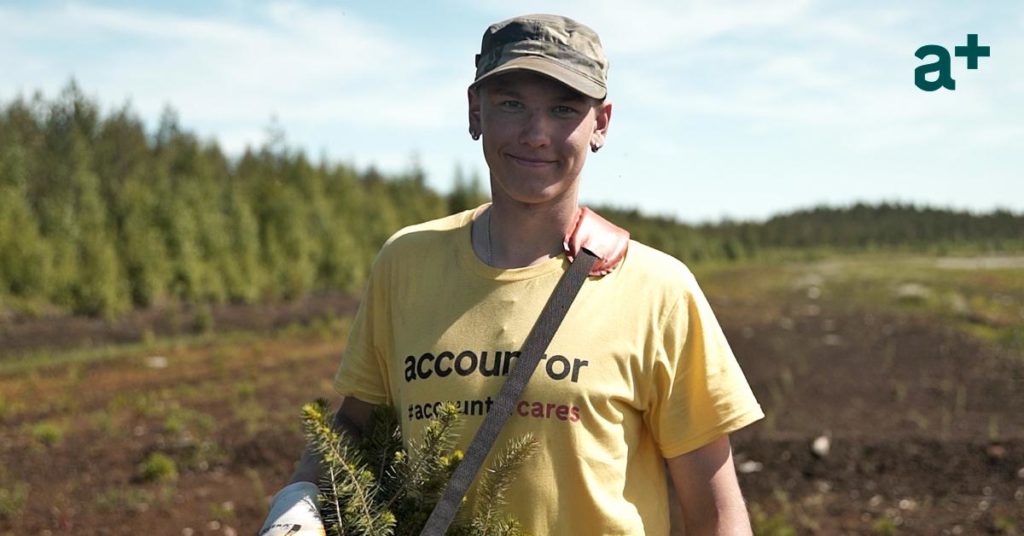 As Accountor, we want to take responsibility for a better future for all of us. Therefore, we participated in 4H Finland's Taimiteko (Seedling Action) activity. Accountorians' own 4,25-hectare Accountorin Kasvunmetsä (Accountor's Growth Forest) was planted in Northern Ostrobothnia, Finland. The forest compensates our personnel's CO2 emissions and grows Finland's carbon sink. Through Taimiteko, young people also got summer jobs in planting seedlings.
Read in another language:
Purpose
Taimiteko is about taking concrete measures to compensate CO2 emissions. It is also an employment activity, as it provides summer jobs for young people. It is one of our ways to show that Accountor cares.
Results
With the Taimiteko cooperation since 2021, we now have a 4,25-hectare Accountorin Kasvunmetsä (Accountor's Growth Forest) in Utajärvi, Northern Ostrobothnia in Finland. A total of 8,500 seedlings – five seedlings for every 1700 Accountorians working in Finland – were planted in the forest. It corresponds to the compensation of 1 976 tonnes of CO2 emissions, which covers about 2 months' share of the total yearly emissions of every Accountorian working in Finland. In addition, 9 young people got summer jobs planting our forest.
Implementation
Finland's 4H organisation managed the Taimiteko while Accountor funded the activity, the seedlings and salaries of the planters. Local 4H organisations in Utajärvi and Muhos interviewed and selected the young people who planted the seedlings as their summer job. The local organisations also trained the young people and managed their work on site.

As Accountor, we want to take responsibility. With Taimiteko, we can make an impact on young people's chances of getting summer jobs. At the same time, we give the young people a concrete opportunity to learn what we can do to mitigate the climate change. However, planting a forest is not just a single climate action, but its effects will last well into the future. Both these young people and our descendants will benefit from it.
Katarina Ylikorkala, CMO, Accountor
Waiting for the first expert review.